DDG of ICRISAT Visited OCRI-CAAS
Date:2014/12/12 Hits:


Recently, Dr. CLL Gowda, the Deputy Director of the International Crops Research Institute for the Semi-Arid Tropics (ICRISAT), visited the Oil Crops Research Institute (OCRI) of CAAS in Wuhan, Hubei Province.
During 20-21 October, 2014, Dr Gowda visited the National Wild Arachis Nursery, Oil Crops Genebank, Peanut Laboratory, Genome Laboratory, Quality Safety Laboratory and Key Laboratory of Biology and Genetic Improvement of Oil Crops of MOA, and the CAAS-ICRISAT Joint Laboratory for Groundnut Aflatoxin Management at OCRI. He was impressed by progress on peanut germplasm, varietal improvement, gene discovery, molecular marker development, disease management, aflatoxin detection and integrated management approaches, and international cooperation achieved at OCRI. Dr Gowda presented the research progress on peanut improvement at ICRISAT, and expressed his appreciation for the valuable contribution from OCRI to the Groundnut Bacterial Wilt Working Group (GBWWG) organized by ICRISAT.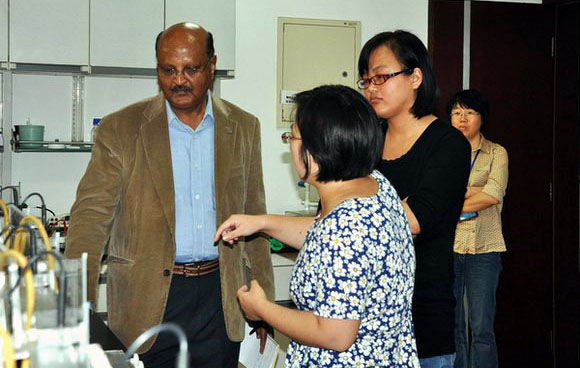 Prof Liao Boshou, the Deputy Director of OCRI, introduced the progress of the CAAS-ICRISAT Joint Laboratory for Groundnut Aflatoxin Management including operation, fund application, technology development and extension since the inauguration of the laboratory in June of 2013. Dr Gowda highly evaluated the efforts made at OCRI and the progress achieved. He strongly suggested strengthening the cooperation between the two parties, increasing staff exchange, publishing papers jointly and scaling-up the international impact of the joint laboratory.
Dr Gowda also visited Hubei Yongxin Food Company, a peanut processing enterprise that has received technical support from OCRI. He noticed the desirable quality management of peanuts during processing by using techniques provided by OCRI. Dr Gowda was also invited to attend a workshop on peanut quality control held at OCRI on Oct 21 and addressed at the opening ceremony in which he suggested speeding up transfer of techniques developed at OCRI for detecting aflatoxins in other countries.