OCRI jointly organized international workshop on management of groundnut diseases in Vietnam
Date:2014/12/15 Hits:


The International Workshop on Management of Groundnut Diseases was held in Hanoi, Vietnam from May 12-14, 2014, attended by over 30 participants from China, ICRISAT (India), Indonesia, Thailand and Vietnam. The workshop was jointly organized by OCRI-CAAS (Oil Crops Research Institute of Chinese Academy of Agricultural Sciences), the International Crops Research Institute for the Semi-Arid Tropics (ICRISAT) and PPRI-VAAS (Plant Protection Research Institute of Vietnam Academy of Agricultural Sciences).

Groundnut is an important oilseed and cash crop worldwide. Under the global climatic change scenarios, groundnut production is affected by various diseases among which bacterial wilt caused by Ralstonia solanacearum has been a key constraint in most east and south East Asian countries. In 1990, ICRISAT initiated the GBWWG (International Groundnut Bacterial Wilt Working Group) for fighting against the soil-borne bacterial disease. Currently Professor Liao Boshou, Deputy Director of OCRI-CAAS, is serving as the Technical Coordinator of GBWWG.

Occurrence of groundnut bacterial wilt and other soilborne diseases, factors influencing the diseases and management approaches were presented in the workshop. Special emphasis was given to information exchange on the genetic enhancement for disease resistance in groundnut including molecular breeding approaches and appropriate inoculation and screening techniques for resistance assessment.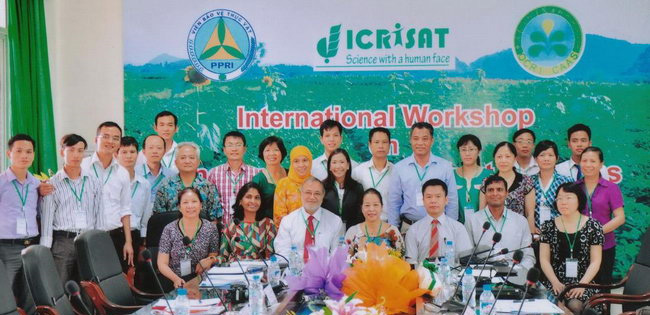 During the field tour, desirable disease management by planting resistant cultivars was seen in farmer's fields. A new disease, groundnut scab caused by Sphaceloma arachidis, was observed in some plots and management suggestions were given by the Chinese participants.

During the workshop, MOUs between PPRI-VAAS with ICRISAT and OCRI-CAAS were signed and exchanged. Further cooperation among the participants was discussed with emphasis on conducting joint trials, applying for funding opportunities and capacity building of young scientists.